last friday, we were thrilled to debut our collection in the near and far aid house tour. not only was it exciting to be selected and showcased among established creatives in interiors, near and far aid's mission to find and fund programs that are dedicated to eliminating the causes and effects of poverty in fairfield county, connecticut resonated with both us as residents of westport and new canaan. so, when the opportunity to participate presented itself, we did a little happy dance and came up with a plan.
of course, none of our plans can be simple and easy to execute. nope. we decided to debut our collection in the tour AND launch our website all on the same day. and, if we forget to mention, our container that sailed here from indonesia full of gorgeous pieces that we were so eager to show and sell to people wasn't set to arrive until the week of the tour with the exact date being left to customs. (we'll give you the 411 on this whirlwind of a week in a separate post.)
even with months of endless planning and preparation, the week leading up to the tour was total mayhem. looking at our design aesthetic, you would think that it would be easy peasy. no big deal to put a room together. after all, doesn't minimalism mean there is minimal work. nope, it doesn't – it's actually the polar opposite.   each room had a long checklist ranging from measurements, furniture placements, color palates (or lack thereof – if you haven't noticed we somewhat monochromatic), rug choices, artwork, plants and décor. here are some cliff notes for a few rooms and overall design.
even though every room had pieces from our collection sprinkled in, we saved our third-floor workspace exclusively for our loot. every other room was carefully curated to fit a modern farmhouse with an industrial chic flavor. we always gravitate to contrast. so, for rooms with exposed metal i-beams, we balanced the space with casual soft textures like linen. take the family room off the kitchen, for example, it's filled with exposed metal, vintage light fixtures and a cement frameless fireplace. to offset the harshness, we set a low stacked cushion sofa in the middle of the room along with our teak wood cheri chairs to give the space much needed softness.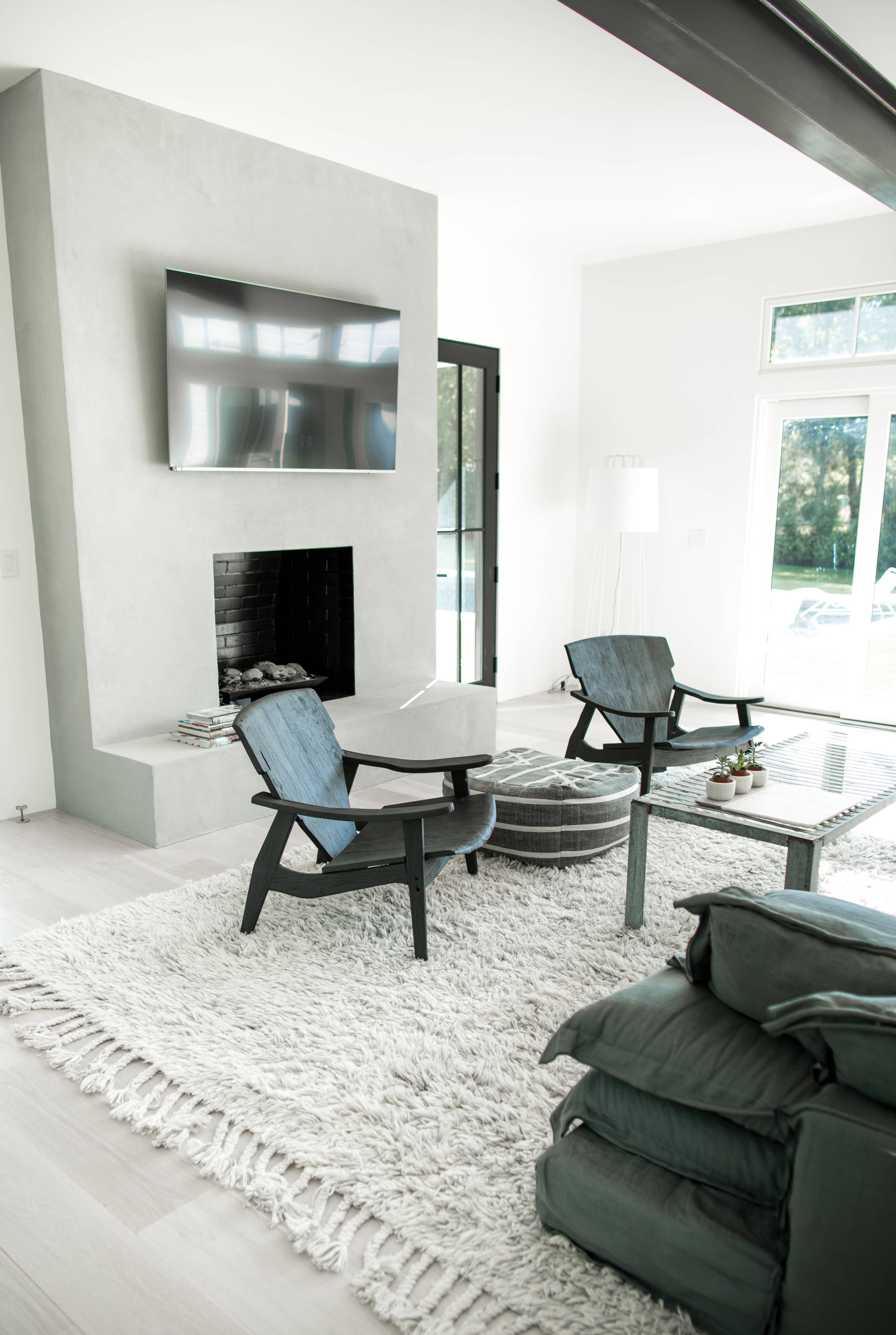 moving onto a traditionally formal room, the dining room, (for the record, we shy away from formalities), we chose a slightly more minimalist approach because the room is used primarily for special events and, well, for show. the raw edged teak dining table, also available for custom order from yours truly, centered along the side of danish wood and leather dining chairs (oh, our dining chairs that are coming soon will have a similar sleek feel) gives that same symbiotic contrast – organic and natural wood juxtaposed with refined italian leather and wood seating. to finish off the space, four perfectly aligned square pieces of metal and plastic artwork by French artist Michelle Y Williams set perfectly in the center of each of the four walls combined with two insanely large bold blue vases by paola navone gives the room interest without displaying much décor or color (except for blue – e's favorite).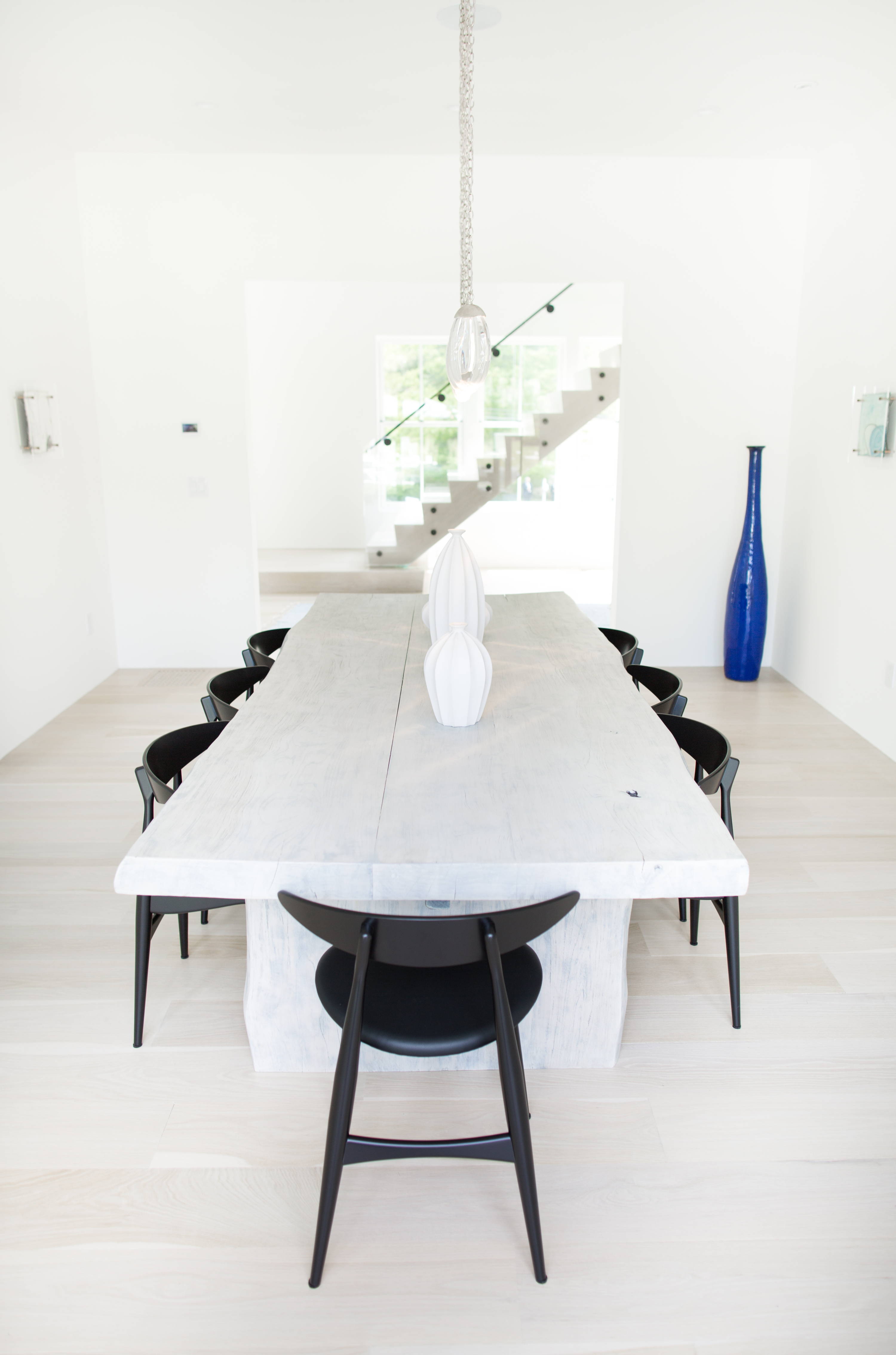 speaking of a room infamous for being prim and proper – the living room – with our contrarian style for room set-up, we were focused on keeping it casual, so we selected chic home furnishings that give an informal vibe. our thinking is: it should be the formal living room where you actually WANT to hang, and we wanted to make it feel that way. we began with the focal point – the fireplace. we placed pure white linen sofas and lounge chairs on either side of a tiled gas fireplace that lights up with contemporary heated stones. to give the coastal (think south of france coastal, not nantucket) upholstered seating a bit of elegance, we set our leonie side tables on either side of the chairs. to balance the delicacy of the room, we added metal side tables, including our celeste grand marble and iron beauty. the addition of our lyla baskets stacked in the corner and the surrealist photograph by dariusz klimczak give the final touches of balance. a room to read, chat in, work or drink margaritas in pjs.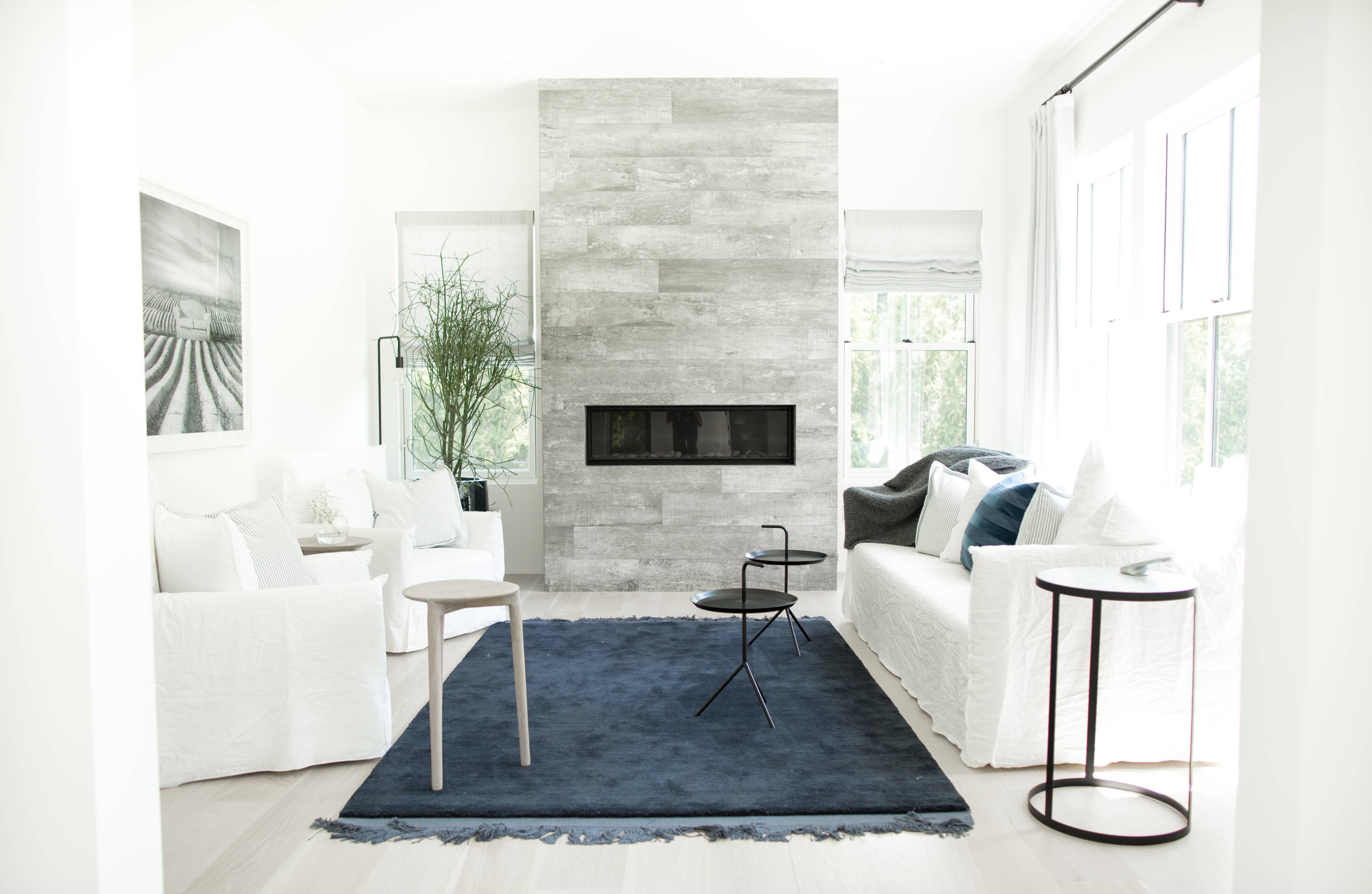 moving upstairs, we saved the guest room with a pullout sofa for an experiment with what we have named the "california" room because of the oversized surfer photo by casey (get psyched similar pieces by c available on our site), the cactus photo, two of our cheri chairs and our ines black seagrass pouf. take a look at the pic.: not much furniture or décor, yet you feel as though you're sitting in cali. aint that cool?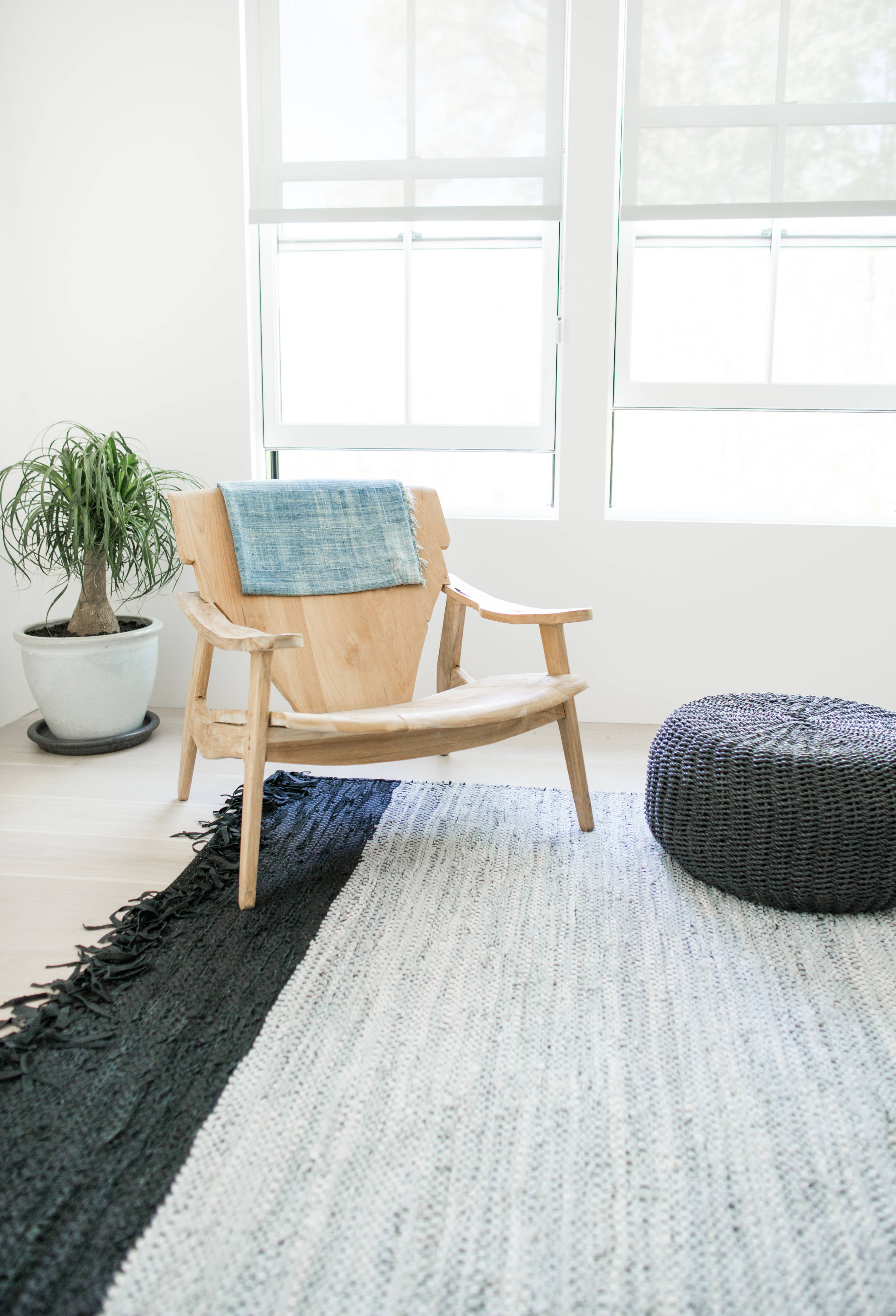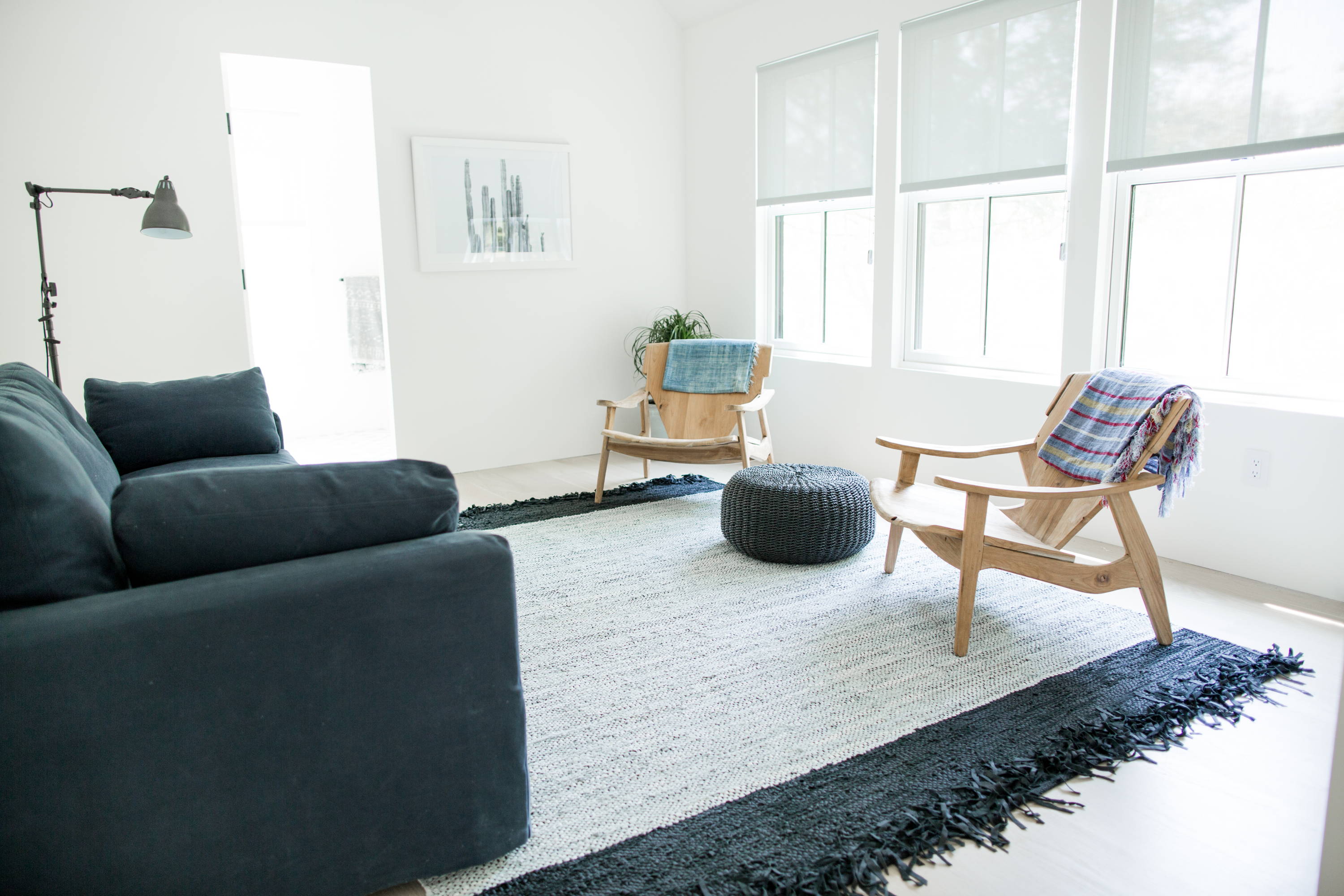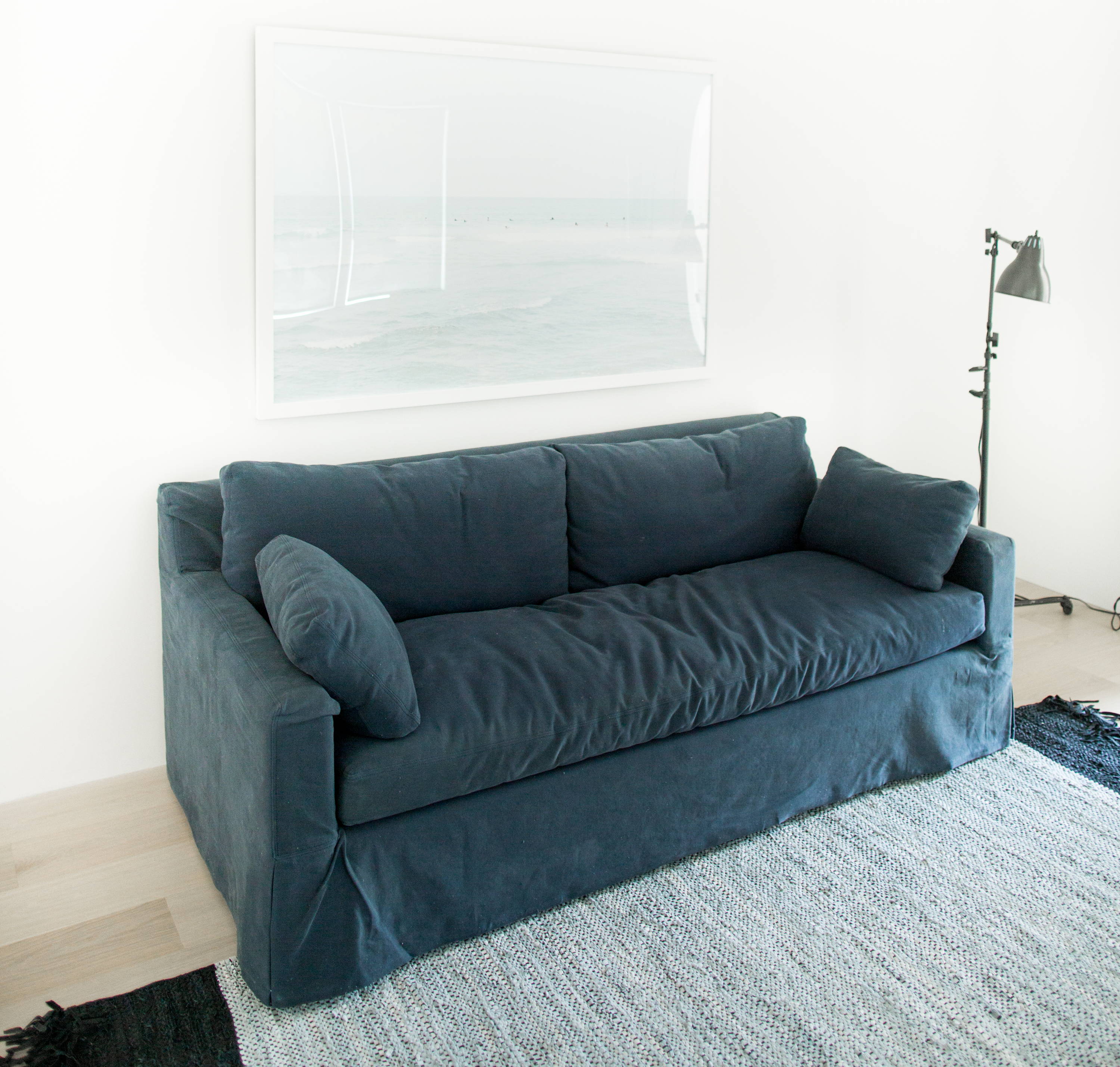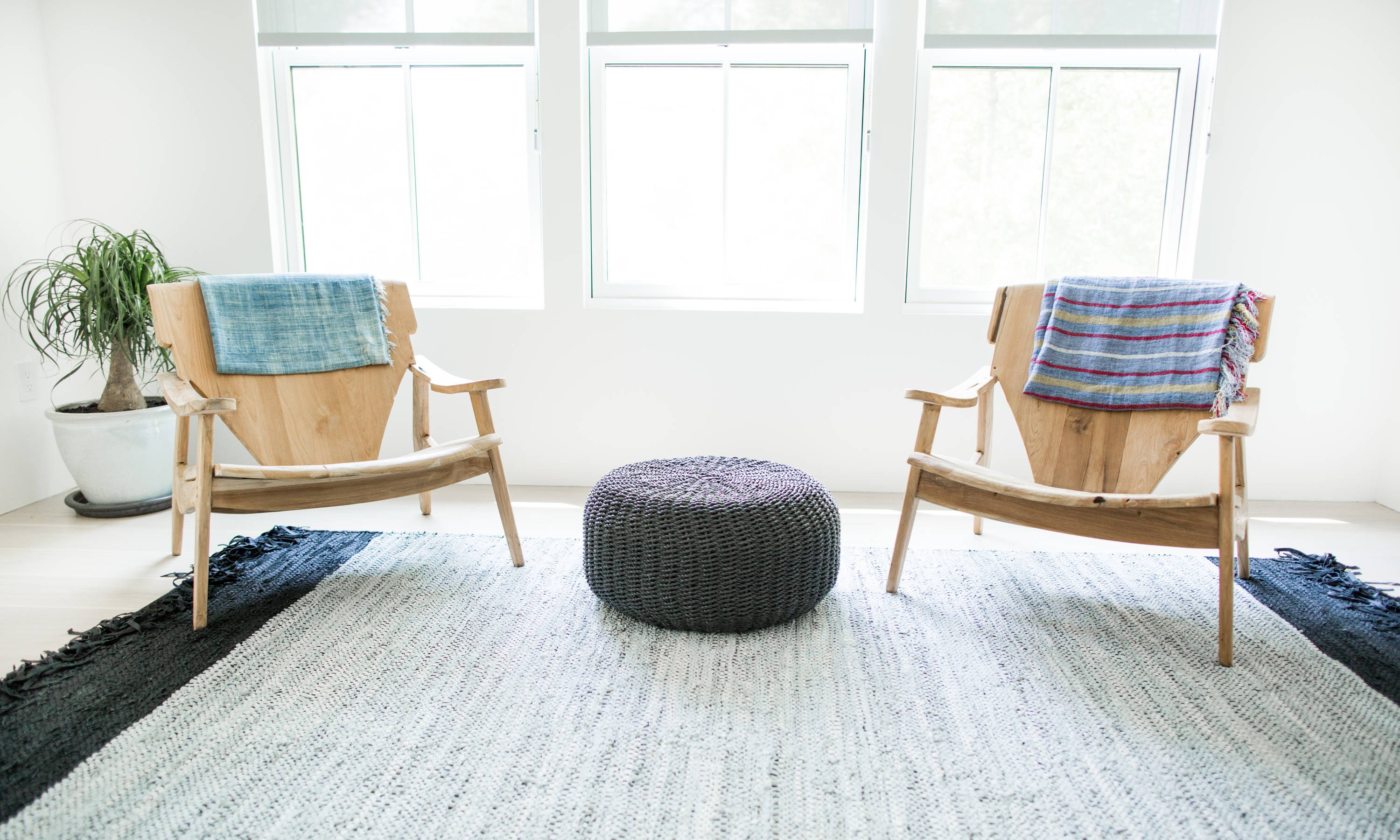 while we would love to give you a full rendition of each room in the house, we fear the overload of information would make you go cross-eyed, or you would just stop reading, so we are gonna limit this blog post to only a few rooms. hope this post gives you an idea of how our creative brain works. before we closed, just for good measure, here is a shot of our third-floor show room. we would really be amiss to omit this from our post!
some faves - the belle chairs and the capucine stool pictured above.